A Sanskrit Mantra for Protection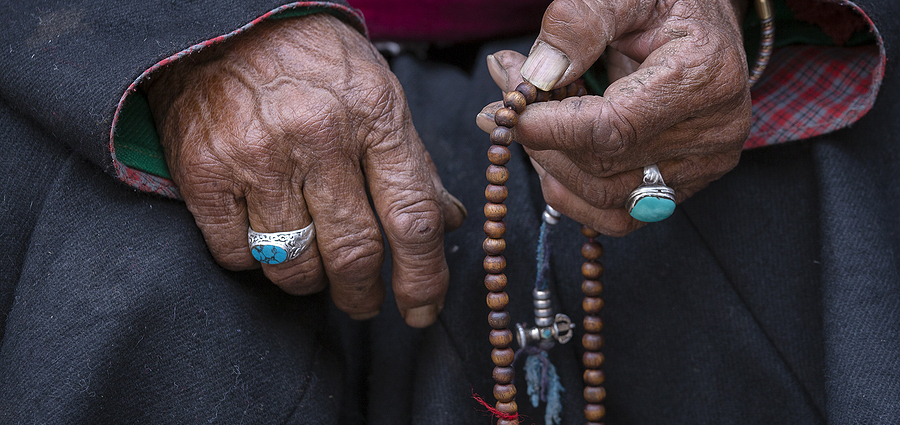 The Mahā Mrityunjaya, also known as the Tryambakam Mantra or the Rudra Mantra, derives from verses in Vedic texts and is an invocation of the Hindu deity Shiva. Learn more about this powerful sanskrit mantra for protection, healing, courage, nourishment and rejuvenation.
The Meaning of The Mahā Mrityunjaya
First of all, mantras themselves are sounds and vibrations that summon healing powers, release divine cosmic energy and elevate you to a higher state of consciousness. Mantras in the ancient language of Sanskrit are particularly potent because of their phonetics and sound patterns. They encompass mystical energies that directly correspond to the nadis, or subtle nerve channels of your astral body. That's why proper pronunciation is extremely important.
Translated as "Great Death-Conquering," the Mahā Mrityunjaya is said to be the most powerful Sanskrit mantra in yogic traditions. It is included in the closing prayers of Hatha and Sivananda Yoga. Like Psalm 91 in the Bible or the Amitabha Mantra in Buddhism, it unleashes waves of vibrations that protect the body from accidents and harm. Its power also inspires courage and restores health to its optimal state. In fact, it is customary to recite it before travelling, while dealing with an illness or when embarking on something risky.
The three eyes referenced in the mantra are those of the god Shiva. Being the patron god of yoga and meditation, his death-defeating attributes fortify the Mahā Mrityunjaya as the ultimate sanskrit mantra for protection and good health.
Om Tryambakam Yajāmahe
Sugandhim Pusti Vardhanam
Urvārukamiva Bhandhanān
Mrityor Muksīya Mā'mrtāt
(Repeat x3)
We meditate on the three eyes of the Absolute
That permeates and nourishes everything like a sweet fragrance.
Just as the ripe cucumber is released from its bondage to the stem,
So may we be freed from death to dwell in immortality.
How to Use this Mantra
Traditionally, mantras are chanted out loud, whispered or recited mentally, but always in correct pronunciation. During meditation, a mantra serves as a tangible point to concentrate on. This way, sound and thought can converge together, allowing the experience of higher consciousness.
Furthermore, a mantra should be repeated 3, 9, 27, 54, or 108 times. 108 is a significant and auspicious number in religion, astronomy, numerology, and spirituality. For example, there are 108 deities in Hinduism, 108 Buddhist virtues, 108 sacred stars in Chinese astrology and 108 lines of energy from the heart chakra. As a matter of fact, the numbers 1, 0 and 8 signify "oneness," "nothingness" and "infinity" all at once; meaning that the universe is one, empty and infinite all at the same time.
This is why 108 repetitions of the Mahā Mrityunjaya can be incredibly powerful. Using practical techniques such as counting with the fingers or using a mala (a string of 108 beads) can help you keep track.
Remember that mantras work when there is intention. Speak the words with awareness, become absorbed in its sacred sounds and allow its vibrations to manifest healing, courage, vitality and security.
"With this mantra one is able to conquer all one's enemies (anger, hatred, jealousy, and greed). It is the source of longevity, health, and well-being… Assuming different forms and shapes, the power of this light, the Mrityunjaya mantra pervades the whole universe. It is the source of all protection, physical, mental and spiritual."

— Netra Tantra
---
This 10-minute mantra meditation includes 27 repetitions of the Maha Mrityunjaya Mantra among a soothing background ambience. It is an instant digital download and can conveniently be saved directly to your device.

Relax, close your eyes, become absorbed in these sacred sounds and allow its powerful vibrations to manifest healing, protection, courage and vitality.
Listen to a 30-second sample:
---