What is Sivananda Yoga
As a teacher of classical Hatha Yoga, a common question I get asked is: "Exactly what IS Sivananda Yoga?" Most folks are familiar with Ashtanga, Hot Yoga, Kundalini or even the western-born fads such as bootcamp and antigravity. But Sivananda Yoga is a bit more obscure to a lot of people. I believe that this is because it embodies the science of life that Yoga actually is. And a lot of people are not prepared to delve that deep into the spiritual and philosophical side.
To get a better understanding of what Sivananda Yoga is all about, it helps to know a little about the origins of yoga itself.
In Eastern traditions, Hatha is a term that encompasses the living science of Yoga. It not only consists of physical postures (asanas), but also integrates breathing (pranayama) and relaxation. Essentially, it is an age-old art of right living that aims to achieve spiritual growth and a higher level of consciousness by cultivating a healthy body and mind.
What is Sivananda Yoga
Sivananda Yoga is a systematic and precise approach to classical Hatha Yoga. It is one of the few schools that still follow the traditional and authentic yogic disciplines. Sivananda Yoga is probably the only class in modern culture that comes close to the ancient system of yoga.In fact, it's probably the only class in modern culture that comes close to the ancient system of yoga, preserves its South Asian roots and advocates its spiritual doctrines.
It is based on the wisdom and principles of Swami Sivananda (1887-1963), a prominent South Indian physician, author and spiritual leader. His legacy continues through the International Sivananda Yoga Vedanta Centres and Ashrams, launched in the late 1950's. Since its origins, this remarkable yogic lineage continues to remain intact and unaltered among the droves of continually evolving yoga styles.
The Philosophy of Sivananda Yoga
The Four Paths
Yoga is the union of the body, mind and spirit. According to the ancient sciences, there are four different paths that lead to this union. Each path takes a different route but ultimately arrives at the same destination.
Karma Yoga: The yoga of selfless action without egoism or the expectation of being rewarded.
Bhakti Yoga: The yoga of devotion and unconditional love through prayers, chanting, singing, worship and rituals.
Raja Yoga: The yoga of the mind that is achieved through the Eight Limbs, which include asanas and pranayama.
Jnana Yoga: The yoga of knowledge and wisdom through the study of spiritual texts and the use of intellect.
The majority of yoga styles today, especially in the West, focus primarily on the practice of asanas. But this is only a part of one path to Yoga. Sivananda Yoga, on the other hand, is a synthesis of all four paths that is meant to achieve a true understanding of the self and of the universe. One of Swami Sivananda's most potent spiritual messages, 'Serve, Love, Give, Purify, Meditate, Realize,' encapsulates this synthesis and serves as a motto for living a healthy yogic life.
"I have only one message and only one common subject, and that is: 'Serve, Love, Give, Purify, Meditate and Realize. Be good, do good.' Reflect deeply on these wonderful words, which reveal the secret of harmony, peace, joy, success and Bliss."
—Swami Sivananda
The Five Points of Yoga
The essence of these yogic teachings are summarized into five practical principles known as The Five Points of Yoga. They provide a framework for right living and lead to profound awareness, self transformation and the preservation of life-force.
Proper Exercise
Proper Breathing
Proper Relaxation
Proper Diet
Positive Thinking & Meditation
True World Order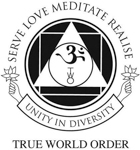 A prevalent theme in Sivananda spaces around the world is 'Unity in Diversity.' According to its philosophy, diversity is the very essence of the human spirit. But the inability to perceive how we are all connected to each other is the principal cause of today's problems. So the True World Order (T.W.O.) was created to promote peace, eradicate ignorance and enunciate the importance of respecting the differences between people.
Part of Sivananda culture, therefore, is recognizing that our natural state is one of complete peace and wellness. By engaging this power within yourself through yoga, there will consequently be peace, unity and good health in the whole world.
The Sivananda Yoga Class
A Sivananda yoga class is a 90-minute session consisting of a comprehensive series of pranayamas and asanas that are always performed in a particular sequence. In addition to opening and closing prayers, a standard class starts with breathing exercises (Kapalabhati and Anuloma Viloma) followed by a few rounds of the Sun Salutation. This leads up to the Twelve Basic Poses and finally concludes with Savasana.There is an anatomical science behind this specific order of postures.
There is an anatomical science behind this specific order of postures that has to do with how each asana counteracts the one before. The poses themselves are designed to bend and rotate the spine, lubricate the joints and lengthen the muscles. And the exact progression of these poses leaves the entire body toned, balanced, supple and properly aligned. Yoga practitioners of all levels can perform this sequence, since each asana has simplified, intermediate and advanced variations.
Compared to other styles of yoga, you can expect to experience an easygoing pace, minimal or no props, longer holds, frequent intervals of relaxation and an emphasis on the spiritual aspect of yogic practice.
The Sivananda Yoga Community
An ashram is a step in the journey of life; and those who are trained in Sivananda Yoga are no strangers to ashram life! Remember that yoga poses and breathing exercises are a significant part – but only a part – of yoga. Staying in an ashram provides the experience of being completely immersed into the other aspects of yogic living, such as kriyas (cleansing rituals), sadhana (personal commitments), yamas/niyamas (behaviours and ethics), meditation, karmic service and the study of ancient texts. Ayurveda, the sister science of Yoga, is also taught and practiced here.
There are currently 10 Sivananda ashrams in India, Canada, the United States, the Bahamas, Austria and France. The communities here are all about open hearts, joyful chanting, temple bells, flowers, pujas and satsangs.In addition, approximately 30 different Sivananda centres are peppered all over the world. Within these spaces, it is common to see happy yoga enthusiasts, in their iconic yellow t-shirts and white trousers, going above and beyond the practice of asanas on a daily basis. The communities here are all about open hearts, joyful chanting, temple bells, flowers, pujas (devotional rituals), satsangs (spiritual gatherings) and positive vibrations.
Is Sivananda Yoga for You?
Many people in western culture have a purely physical "no pain, no gain" mentality when it comes to their health and fitness routines. There is a desire for immediate results, sweat and breathlessness in order to justify a good workout. If that is the only thing you're looking for, then a Sivananda class may not be for you.
Yoga is meant to feel good, joyous and delightful while moving through physically demanding postures and intense breathing exercises. It works deep beneath the surface and its principal benefits emerge in the long term. Furthermore, Sivananda teachers have been molded to create a revolution in consciousness in this world, so many of their methods assimilate a great degree of mindfulness, balance and connection to the higher self.
To put it succinctly, Sivananda Yoga is powerful, yet blissful; challenging, yet delicious; and energizing, yet deeply relaxing. The practice inspires a oneness of mind, body and spirit that transcends the classroom walls and creates an authentic yogic lifestyle of good health and absolute wellness. If this is what you seek, then you've come to the right place.
Om Namah Shivaya.