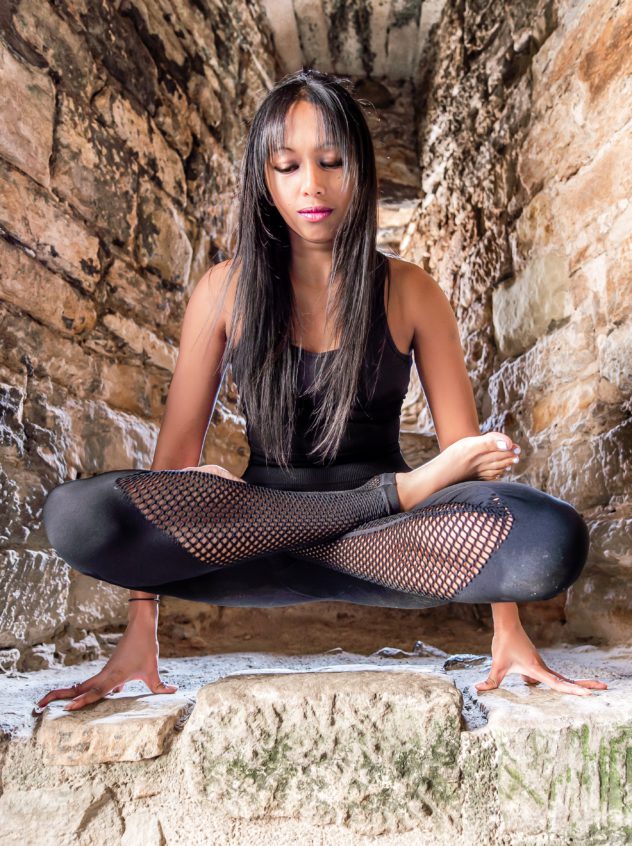 Welcome! I'm Andrea and I am the founder of Body Mind Light. As an online teacher and a lifelong devotee of Yoga, I created this space to be a virtual hub for the technique, tradition and philosophy of classical Hatha Yoga.
I cannot emphasize enough that Yoga is so much more than physical postures! It is a process. It is a way of life. Mindfulness, breathing, meditation, cleansing, morals, energies and behaviours carry equal importance – both inside and outside the classroom.
The roots and wisdom of this ancient discipline lie deep in religion, culture, Sanskrit, Vedic texts and India itself. But yoga should never be misconstrued as a religion, nor should it demand anyone to do, feel or believe anything they don't want to. It is a spiritual experience that is specific to each individual.
As a teacher, my approach to propagating yoga revolves around this concept. This is what I aim to bring to the world and this is what you will discover within these pages.
My Yoga Journey
I was born in Thanjavur, India and grew up in a traditional Tamil household. Yoga, meditation and spirituality became a part of my life at a very young age. Needless to say, they had a remarkable influence on my well-being.
As I grew up, this age-old discipline was flourishing outside India, but its true essence was often lost in translation. So it was incredibly important for me to find communities that upheld and honoured the traditional meaning of Yoga. Over the years, I encountered numerous teachers, delved into different styles and experienced yogic life in various ashrams throughout Asia.
In 2007, I became certified as a Teacher of Yoga from the International Sivananda Yoga Vedanta Centre in India. Since then, I have been fortunate enough to live and teach in several countries around the world, including Indonesia, Thailand, the Maldives, India, Canada and the United Arab Emirates.
My journey doesn't stop there though! I believe that continuous lifelong learning is a fundamental attribute of being a yogi. For this reason, I not only see myself as a teacher, but also as a student — forever growing, developing and evolving.
My Yoga Classes
When it comes to asana sequences and pranayama exercises, I prefer to teach by both demonstration and verbal guidance. More often than not, I'm found performing poses along with the class, while simultaneously explaining the meaning and purpose behind each action. I also routinely incorporate scriptural references, cultural connotations and Sanskrit mantras so that students are fully immersed in an authentic yogic experience.
Although I'm physically in Canada, my virtual reach is global! I currently offer online classes in traditional Hatha Yoga, with modified flows for corporate groups (i.e. yoga for the workplace), seniors, mothers-to-be, special needs and individual health requirements.
Sharing this ancient wisdom with the world is a privilege, and I hope it inspires you to take your own practice to a deeper and more meaningful level. I welcome you to discover the secrets of this ancient science, revel in an abundance of positive vibrations and realize your own remarkable potential.
See you on the mat!