Five Amazing Indian Women in Yoga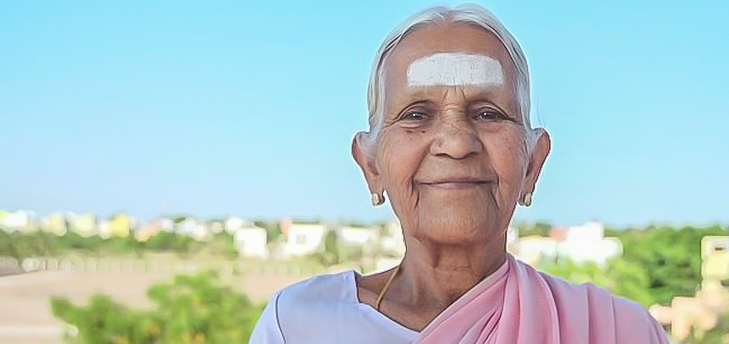 In South Asian history, the gurus, swamis and yogis that we hear of are usually male. We don't really hear much about women in the evolution of this age-old practice. But in fact, women have played an extremely important role in the inception of spirituality and consciousness, before it was even defined. Today, Indian women in Yoga continue to uphold and propagate its traditional essence with deep insight, humility, dignity and compassion.
Women in the History of Yoga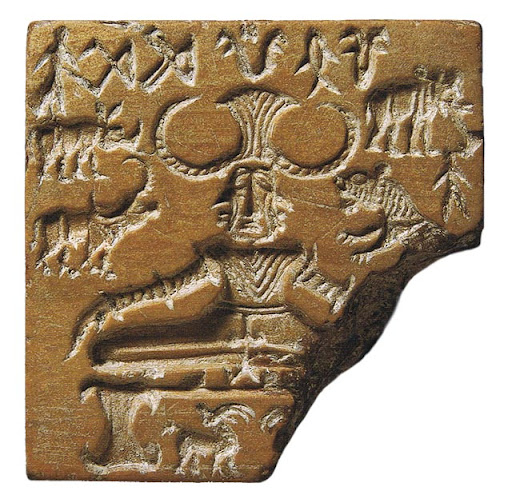 The oldest known evidence of yoga is the Pashupati seal, an ancient relic found in Mohenjo-Daro of the Indus Valley civilization, circa 2350 – 2000 B.C.E. It depicts a figure in the yogic pose of Bhadrasana. Due to its characteristic jewelry and attire, many scholars believe that this figure is indeed, a woman.
As a matter of fact, Tantra (yogic rituals and practices) and Samkya (the theory of yoga) may have derived from this peaceful and thriving matriarchal society. Their rites and rituals had revered the female as a source of power and illumination that was deeply connected to the cycles of nature. Countless other ancient figurines unearthed across the Asian subcontinent show women in physical postures that indicated a higher level of consciousness.
The Vedic Age to the Empires
Over time, the onset of patriarchy confined women to the household. The very elements of femininity that were once honoured began to be vilified as unimportant, offensive and inferior to men. Women were labelled as "impure" and hence, they were not allowed to chant sacred mantras or enter sacred spaces. Furthermore, men regarded women to be a threat to their pursuit of celibacy.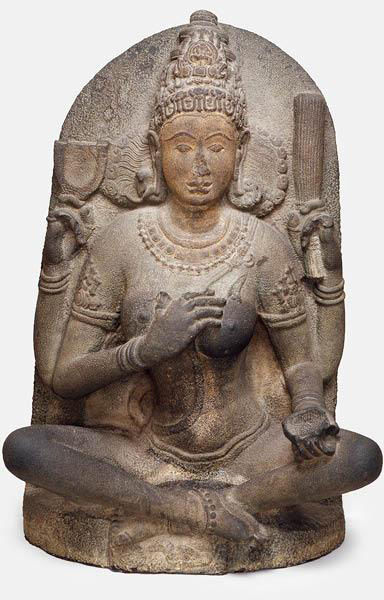 But women learned that there was more than one way to achieve spiritual liberation. So they practiced in private. Their yogic path was mainly Bhakti (the path of love, faith and devotion) as it was one of the few spiritual avenues that they were permitted to take. Through this practice, they planted the seeds of spirituality in their children that continued through the generations.
Because historical texts were largely written by men in the androcentric Vedic era to the Middle Ages, many female spiritual leaders were excluded. This is probably why we don't hear much about them. Nevertheless, there are several women in the history of yoga who have their rightful place in the books:
In Modern Times
In the 19th century, yoga started to spread around the world. Almost all of the yoga pioneers who introduced the practice to the West were men, such as K. Pattabhhi Jois, Bikram Choudhury, Swami Vishnudevananda, Amrit Desai and Swami Satchidananda. Many of them, it turns out, physically and/or sexually abused their students. In addition to being an outright crime, this is the complete opposite of what yoga is! It goes against yogic principles such as ahimsa (non violence), brahmacharya (sexual responsibility) and many other Yamas and Niyamas.
Indian women, on the other hand, have habituated yogic practices that are quietly powerful, deeply personal and true to the meaning of yoga. History had conditioned them to pursue spiritual paths that lead to harmony, peace, liberation, awareness and a profound oneness with the self – not power, sex, money, authority, showmanship or the glory of being a "guru."
Amazing Indian Women in Yoga
The five women below reinforce the fact that yoga is so much more than the physical postures that are glamourized in modern and western society. Many essential yogic disciplines such as the eightfold path, pranayama, karma, devotion, philosophy, Ayurveda and the study of spiritual texts are constantly overlooked, buried or lost in translation. Yet, these amazing women continue to preserve and nurture them.
In this significant era of human evolution, it is not only a pleasure, but a necessity to recognize and appreciate these women's unparalleled contributions to Yoga.
Nanammal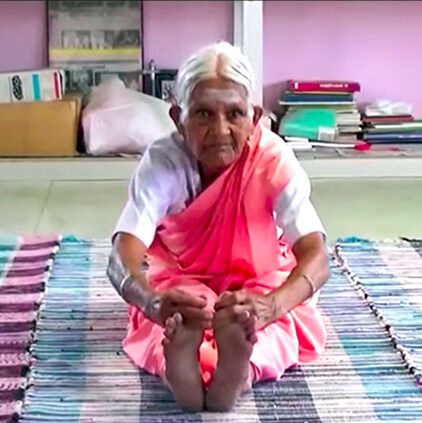 "I never stopped practicing yoga at any point in my life. That's the secret of my health."
This flexible granny was the 2nd oldest yoga teacher in the world. She was born and raised in the south of India and had been a yoga practitioner since the age of eight. She continued to practice and teach in a pink cotton saree on a simple rug at her school in Coimbatore until her passing in 2019 at the age of 99.
Nanammal was committed to upholding the spiritual traditions of yoga and strictly adhered to daily healthy practices. She incorporated pranayama techniques which are all but lost in the West. And she believed that if you're working up a sweat, you're doing it wrong. After all, yoga is meant to be steady, comfortable and blissful.
Having received multiple awards for her remarkable achievements, she unceasingly focused on spreading awareness of proper health among the women of her community.
Learn more: The BBC's article as well as this inspirational video.
Mata Amritanandamayi (Amma)
"Don't be discouraged by your incapacity to dispel darkness from the world. Light your little candle and step forward."
Affectionately known as The Hugging Saint or Amma, this woman with a huge heart is one of the most cherished karma yogis of our time. Born in southern India to a family of conservative fishermen, Amma witnessed a lot of poverty, suffering and sadness in her community from a very tender age. Yet, she had always felt that it was her duty to show compassion, comfort and warmth to those experiencing pain. To her, everyone was equal and deserving of love, no matter what religion, history, caste or gender.
Amma has been extensively involved in activism, humanitarian efforts and charitable activities throughout her extraordinary life. In addition to karmic action, she is also a practitioner of meditation, Bhakti Yoga and Jnana Yoga (the yoga of knowledge). Her most famous act though, is healing people all over the world with the power of her hugs.
Learn more: Amma's blog on SpeakingTree.
Dr. Hansa Yogendra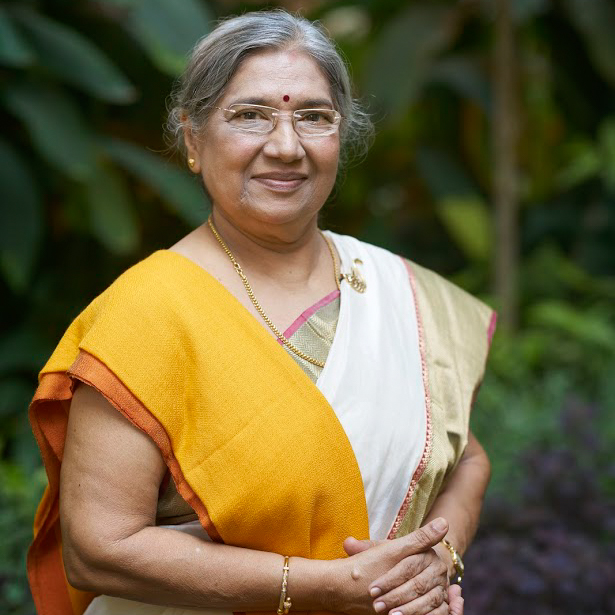 "In Yoga, old age is defined by thoughts and not numbers. Old age starts from where the learning stops."
Dr. Yogendra is not only a yoga teacher, but an epitome of achievement. She is a charismatic speaker, a celebrated author, a well-known television personality, a respected educator and a sharp businesswoman. With prestigious positions in the Indian yoga community, an impressive degree in law, contributions to medical research and several accolades under her belt, she was also the only female yoga teacher to lead the record-breaking event at Delhi's Rajpath on the first ever International Yoga Day.
As the director of The Yoga Institute in Mumbai, Dr. Yogendra is known for her compassionate personality and radiant aura. She has even taken it upon herself to educate women on how yoga can have a positive impact on their health and their lives. It's no wonder that she was honoured with a Lifetime Achievement Award for being an ambassador of yoga, peace and harmony.
Learn more: The Yoga Institute's YouTube channel
Rukmini Vijayakumar
"Yoga is not about restrictions at all. Yoga is about freeing oneself of the limited perceptions we have of ourselves and the world around. It is about finding the ability within us to see the unity in all of creation."
Rukmini is a yoga practitioner, choreographer and acclaimed Bharatanatyam dancer. Bharatanatyam is a classical dance from Tamil Nadu, India which is actually considered to be a form of Bhakti Yoga and incorporates many yogic elements, philosophies, expressions, mudras and asanas. Rukmini gracefully demonstrates these aspects through her dance, usually dressed in elegantly draped sarees and traditional Indian attire.
When she's not performing in sold-out shows all over the world, Rukmini runs her own dance company in India called Raadha Kalpa and maintains an inspiring presence on social media. She unfailingly upholds traditional yogic principles, teaches its philosophy, reclaims Indian femininity and beautifully illustrates 'the yoga of movement' to the world.
Learn more: Rukmini performing yoga asanas and the Sun Salutation.
Ananta Ripa Ajmera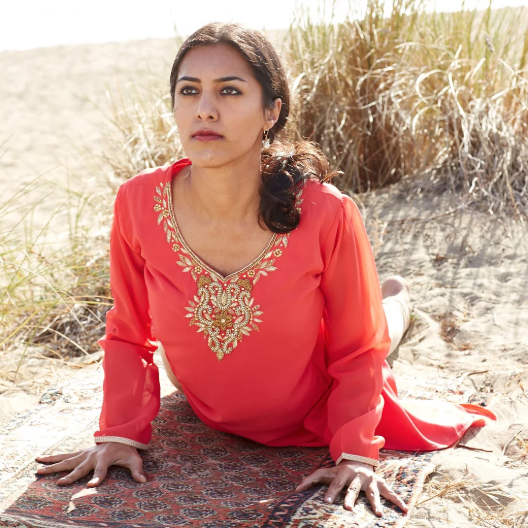 "Cultivate the garden of your mind. Cutting that which does not serve you makes room for something positive to grow in its place."
Ananta Ripa Ajmera is an Ayurvedic health practitioner and lecturer, a podcast host, a teacher of yoga and the author of the best-selling book, 'The Ayurveda Way: 108 Practices from the World's Oldest Healing System for Better Sleep, Less Stress, Optimal Digestion, and More.'
Ananta is American, but she is of Indian origin and descends from a long line of Ayurvedic healers in India. She received her yoga teacher's certification from the Sivananda Ashram in Kerala and her Ayurvedic qualifications under the tutelage of Acharya Shunya. As Ayurveda is one of the sister sciences of Yoga, Ananta perfectly incorporates this Vedic system of natural healing with authentic yogic disciplines.
Learn more: Visit Ananta's website
---
Are there any other Indian women in Yoga that you'd like to recognize or discuss? Leave your comments below!