The Basic Guide to Chakras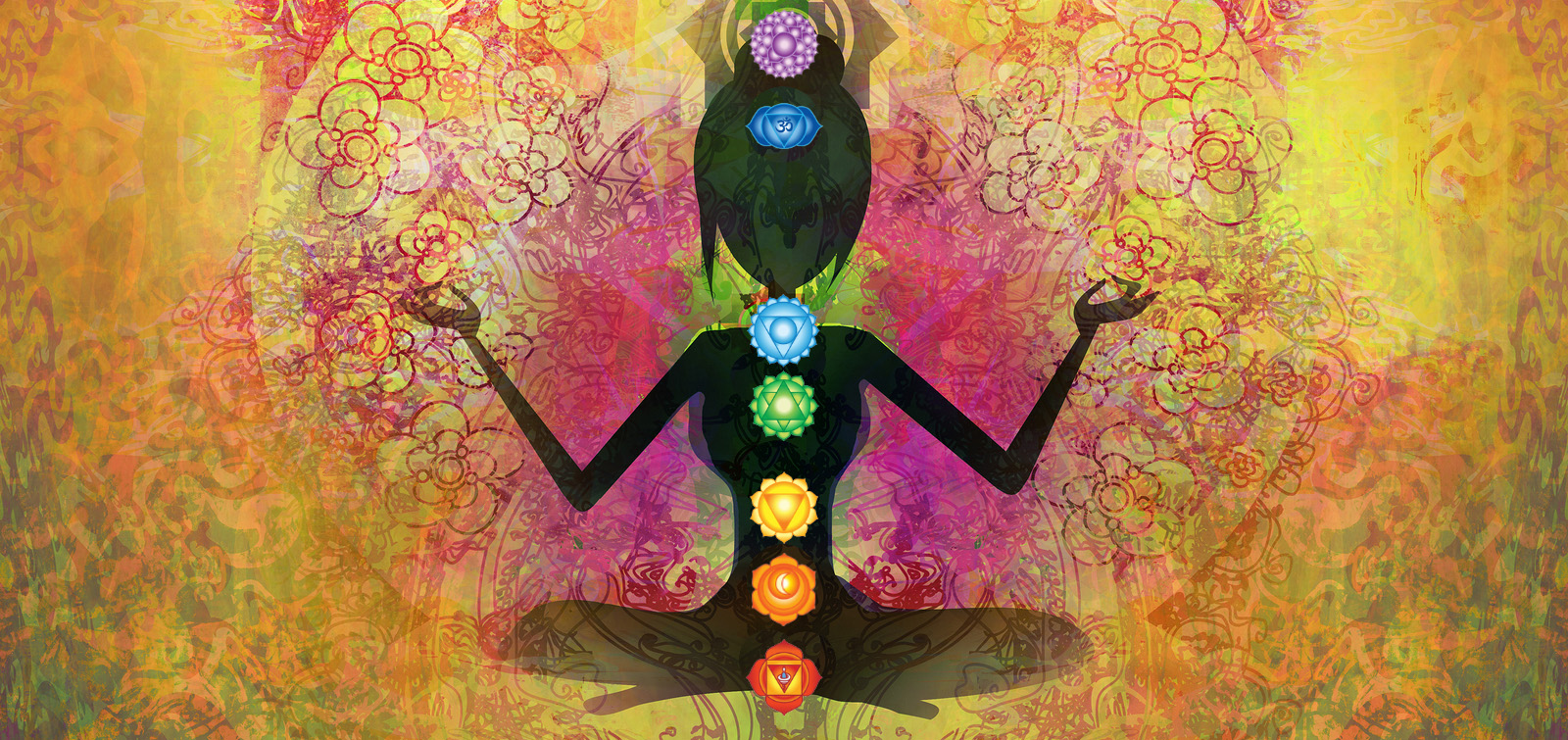 In addition to the physical body, each person possesses an astral body which is essentially the aura of intellect, emotions, intuition and mental activities. Prana, the subtle form of vital energy that exists in all things, flows through an intricate plethora of nerve channels, or nadis, in this astral body. The Sushumna nadi is the most significant and is anatomically equivalent to the physical spinal cord.
"The body is the vehicle, consciousness the driver. Yoga is the path, and the chakras are the map."
—Anodea Judith
In seven centers along and above the Sushumna nadi, energy concentrates as spinning wheels, or chakras. Each chakra has it own vibration and governs specific physical, emotional, mental and behavioral states in the physical realm. If they are blocked, imbalanced, over-active or under-active, our corresponding health deteriorates.
Yoga, which encompasses physical poses, breathing exercises and the implementation of yogic philosophies, is all about the proper channeling and movement of energy through the chakras, resulting in a balanced body and mind.
This basic guide to chakras outlines where these seven vortexes are, their meaning, significance and the yogic practices that help to balance them.
---
Muladhara

The Root Chakra
Sanskrit: "Root Support"
Location: Base of the spine
Mantra: "Lam"
Colour: Red
Element: Earth
Governs: Foundation, security and basic survival factors such as food, shelter and financial independence.
If Balanced: You feel grounded, strong, accomplished, secure and independent.
If Imbalanced: You have a scarcity mindset and feelings of insecurity, anxiety or low self-esteem.
Helpful Yoga Poses & Practices:
Vrksasana (Tree Pose), Malasana (Squat), Observing the Yamas and Niyamas
Svadhishthana

The Sacral/Pelvic Chakra
Sanskrit: "The Place of the Self"
Location: Just below the belly button
Mantra: "Vam"
Colour: Orange
Element: Water
Governs: Creative Energy and Sexuality
If Balanced: You have an abundance mindset and a zest for life. You do everything in moderation, including eating, drinking and physical activity. You feel positive, creative and flexible.
If Imbalanced: You feel jittery, dry, stiff, guilty, depressed or easily hurt; you may overindulge or have cravings and addictions.
Helpful Yoga Poses & Practices:
Utkata Konasana (Goddess Pose), Baddha Konasana (Cobblers Pose), Practicing fasting and Brahmacharya
Manipura
The Navel Chakra
Sanskrit: "Lustrous Jewel"
Location: The solar plexus
Mantra: "Ram"
Colour: Yellow
Element: Fire
Governs: Personal Power; this is the main storage area for prana
If Balanced: You feel self confident, decisive, vibrant, energetic, wise and high in self esteem
If Imbalanced: You are angry and lack empathy. You may feel sluggish, needy, insecure, indecisive and low in energy.
Helpful Yoga Poses & Practices:
Navasana (Boat Pose), Phalakasana (Plank Pose), Practicing Kriyas
Anahata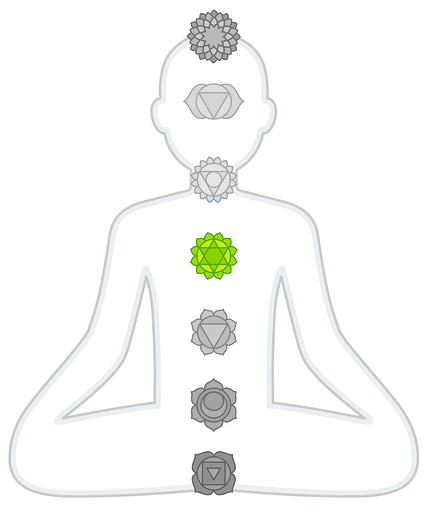 The Heart Chakra
Sanskrit: "Unhurt"
Location: The heart
Mantra: "Yam"
Colour: Green
Element: Air
Governs: Love and compassion
If Balanced: You cultivate healthy relationships and foster unconditional love and kindness for yourself and for others.
If Imbalanced: You feel abandoned, lonely, clingy and possessive. You also may develop unhealthy relationships.
Helpful Yoga Poses & Practices:
Any back bending poses, Bhakti Yoga, Meditation, Yogic Breathing, Karma Yoga
Vishuddha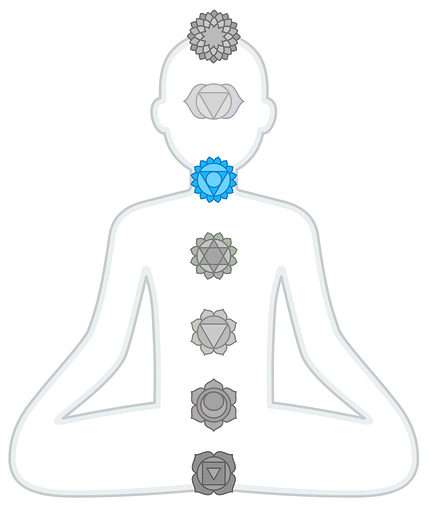 The Throat Chakra
Sanskrit: "Purest"
Location: Between the collarbones
Mantra: "Ham"
Colour: Blue
Element: Ether
Governs: Truth
If Balanced: You have the courage to speak the truth; you listen without judgement and you are able to communicate effectively
If Imbalanced: You are over- or under-talkative, without being able to express yourself authentically. You may also develop indigestion because the energy is pushed down into the Naval Chakra.
Helpful Yoga Poses & Practices:
Sarvangasana (Shoulderstand), Halasana (Plough Pose), Ujjayi Pranayama, Practicing Satya
Ajna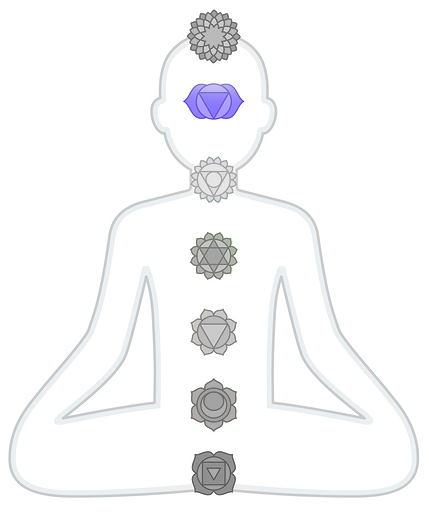 The Third Eye Chakra
Sanskrit: "Beyond Wisdom"
Location: Between the eyebrows;
The Pituitary/Pineal Gland
Mantra: "Om"
Colour: Indigo
Element: Light
Governs: Intuition
If Balanced: You are able to hear your inner voice and you trust your intuition, making you open to new perspectives and horizons.
If Imbalanced: You are close-minded, cynical and suspicious. You may develop headaches, migraines or allergies.
Helpful Yoga Poses & Practices:
Padmasana (Lotus Pose), Balasana (Childs Pose), Meditation, Practicing Anuloma Viloma
Sahasrara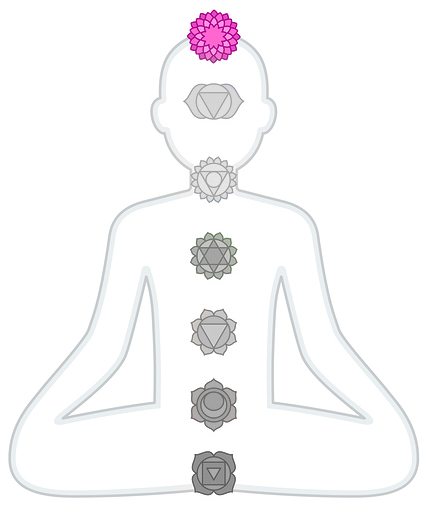 The Crown Chakra
Sanskrit: "Thousand Petals"
Location: Top of the Head
Mantra: "Om"
Colour: Violet/White
Element: Cosmic Energy
Governs: Consciousness and Thought
If Balanced: You are free, spiritual and enlightened. You are at one with the universe and you enjoy the human experience.
If Imbalanced: You don't feel that things are in symmetry. You rely too much on happiness from external sources.
Helpful Yoga Poses & Practices:
Savasana (Corpse Pose), Sasangasana (Rabbit Pose), Meditation
---
Awareness of these vital energy centers can help us to understand and appreciate our bodies from a whole new perspective. This knowledge can subsequently lead us toward a life of optimal health, boundless creativity, infinite confidence and unbridled joy!