Sivananda Yoga in the Bahamas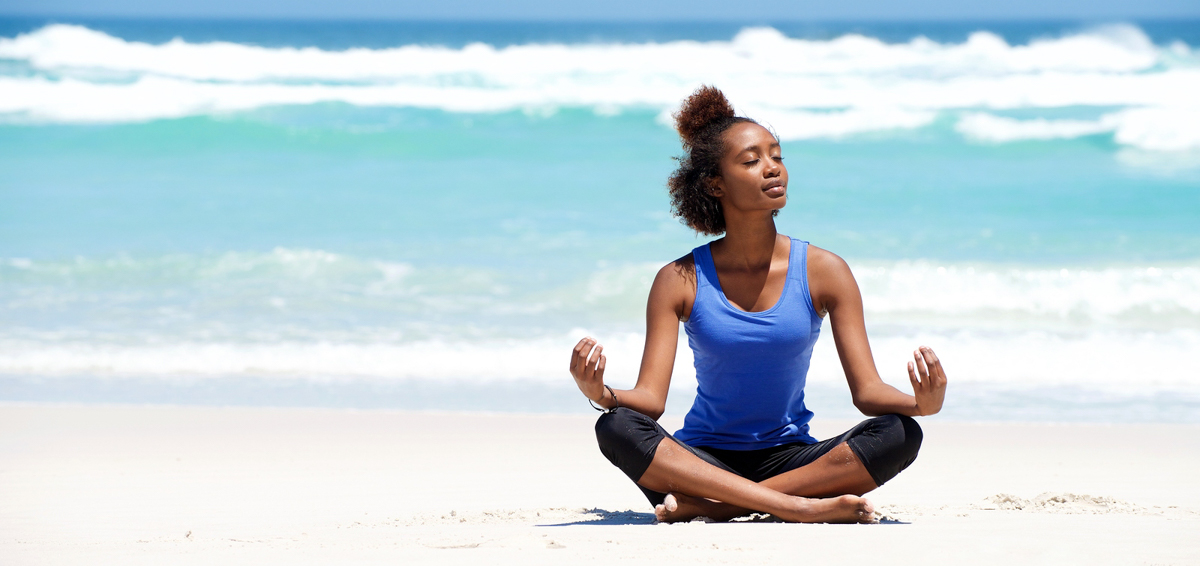 An ashram can be translated as a step in the journey of life. No matter where it is in the world or which type of philosophy it supports, an experience in one of these spiritual havens is guaranteed to inspire prolonged self improvement and personal growth. The Sivananda Ashram Yoga Retreat near Nassau is one of ten ashrams of its lineage around the world and offers a unique setting for yoga practitioners to rejuvenate, reflect and deepen their practice. Here's what it's like to escape to sun, sea, sand and Sivananda Yoga in the Bahamas.
Getting There
As the airplane circles New Providence Island to make its approach into Lynden Pindling International Airport, glimpses of dancing palm trees and clear turquoise waters appear through fleeting tufts of white cotton clouds in the window. Now, if you're coming from somewhere colder, greyer or more 'concrete,' this sight alone will make your body take a deep yogic breath of relief and release.
The pleasant ride from the airport offers picturesque views of island life peppered with brightly coloured buildings and a hint of colonial architecture as it meanders into downtown Nassau's chaotic Bay Street. After being inundated with bustling souvenir shops, tourist-infested beaches, crowds of holiday makers and the melodies of steel drums, you will finally arrive at a quiet dock where the ashram's humble little boat waits patiently to carry peace-seeking yoga enthusiasts across Nassau Bay.
The Ashram
Anchored on the west side of Paradise Island, the ashram is a lush spiritual sanctuary adorned with swaying palms, tropical gardens, a fresh ocean breeze and the comforting sound of stillness. Like all Sivananda ashrams, it is run and cared for by a community of certified instructors and support staff who each have different roles and work together to promote the teachings of Yoga to vacationers, karma yogis and TTC (Teacher's Training Course) students from all over the world.
A miniature pond near the entrance displays figurines of the Buddha, Mary and Jesus, a Hindu lingam and a Canadian inukshuk. It's a gentle reminder to every visitor about the theme of diversity, unity and multiculturalism that the Sivananda community upholds. As you walk through the winding pathway to the reception, you can actually feel the earth permeating with a serene spiritual energy, forming the perfect setting for a period of quiet reflection and self-realization.
Legend has it that when prospectors came to the island in the 1960's, they discovered a rock that was said to extend right down through the earth into the Lost City of Atlantis. Upon sensing its powers of peace and higher thought, they knew at once that this was the ideal place for an ashram. Since then, that rock had been molded into a statue around which the ashram's Vana Durga Forest Temple was built.
One of the ashram's highlights is its breath-taking beach with its aquamarine shores and soft rock-free white sand. Other facilities include a Well-being Centre offering Ayurvedic treatments, a Health Hut serving nutritious snacks and a Sivananda Boutique with basic toiletries, laundry tokens, camping equipment and an ample selection of books, dvd's, cd's, clothing and accessories.
Beach and garden rooms, huts, dormitories, beachfront suites and even spaces to pitch your own tent are sprinkled throughout the ashram grounds. The communal showers and washrooms are pleasantly well-maintained and hygienic, thanks to the frequent visits from the friendly local housekeeping staff. The Wifi (which is understandably switched off only during morning and evening satsangs) is delightfully uninterrupted. And there are no problems with electricity, the hot water supply, safety, security or, very importantly – bugs.
Daily Program
Each day in the ashram begins at 5:45 am with the soothing chimes of the temple bell introducing sleepy spiritual seekers to a brand new morning. At this hour, it is still cool and dark outside and the fresh ocean air is abundantly saturated with a calm, tranquil energy that is ideal for focus and self-reflection. By 6:00 am, everyone has gathered at the main hall where one of the swamis leads a silent meditation session. As sunlight gradually illuminates the space and the sounds of chirping birds begin to fill the air, the music starts and the room erupts into the joyous chanting of Jaya Ganesha. After a reading from one of the spiritual texts, the assembly disperses to prepare for the day's events.
The morning yoga class at 8:00 am and the evening yoga class at 4:00 pm are the focal points of the ashram experience. They are offered in beginners and intermediate levels and are held on one of the four different platforms either within the gardens, on the beach or facing Nassau Bay. Each session incorporates the Sun Salutation , Kapalabhati, Anuloma Viloma, the 12 Basic Yoga Poses and Savasana. They are taught by certified Sivananda teachers, all of whom provide a favourable variety to the routine sequence with their own knowledge, variations, skills and teaching methodology.
Delicious and wholesome meals are served at 10:00 am and again at 6:00 pm in the dining area. Other than that, the times in between are open to choice. Workshops such as Thai massage, vegetarian cooking, yoga for specific needs and study sessions of the Bhagavad Gita take place throughout the day. And it's not unusual to see visitors meditating, reading, relaxing or even practicing on their own in the various pockets of solitude within the palm groves or on the beach. Karma yogis and TTC students follow a more specific and extensive schedule, but those coming to the ashram for a Yoga Vacation find that there is plenty of time to rest, contemplate and rejuvenate.
At 8:00 pm, evening satsang starts with another nourishing session of silent meditation and a few minutes of glorious chanting that comfortingly fosters a sense of family within this yoga community. It concludes with a specific performance, event or talk by a special guest that the ashram hosts. From best-selling authors and Bharatanatyam dancers to award-winning musicians and spiritual leaders, each event leaves you with a lot to think about. Wandering back to your dwelling, past the twinkling lights of mountainous cruise ships lounging in the bay, you'll find yourself pondering the big questions of life as you drift off to sleep under a cool Caribbean night sky.
Ashram Life
It's important for people to know that this is not a fitness club or a hotel. This is an ashram, a place that was traditionally a secluded area far from the comforts of modern civilization where an individual lived with the bare essentials and was inspired by the beauty of nature to meditate, find balance, seek the light within and realize their own true self. The Sivananda ashram in the Bahamas does have an air of a vacation destination, but it is, first and foremost, an ashram and it aims to offer the benefits of detoxification from the material world that an ashram intends to.
The accommodation is basic and modest, the meals are lactovegetarian and things such as alcohol, smoking, meat and coffee are not welcome. Moreover, many visitors will be practicing silence or will want to be left alone to pursue their individual goals, so don't expect a great deal of gregarious socializing. If you arrive with a positive, open mindset and welcome this type of lifestyle and the transformation that comes with it, you'll find that you are rewarded with immense personal development and great spiritual benefits that stay with you long after you leave.
Little Escapes
Ideally, you want to stay in the ashram for the majority of your time in order to keep the momentum of your practice going and to optimize its effects. But for those who want to get a little taste of the Bahamas as well, there are a couple of quick getaways that are worth mentioning.
A short walk along the beach brings you to the infamous Atlantis Resort that sprawls across much of Paradise Island. Bypass its casinos, bars and Starbucks and you can easily spend a few hours (in between morning and evening yoga classes) to walk around the lagoons and waterfalls within the resort premises, treat yourself to a massage at the Mandara Spa, admire the monster yachts at the Atlantis Marina or observe the dolphins, stingrays, sharks and other forms of sea life in their marine habitats.
Another idea is to hop on one of the daily scheduled boat departures and visit the capital of the Bahamas. Nassau, just a few minutes away, is a vibrant and exciting place that's definitely worth seeing. But be forewarned, the city is condensed into a very small area. So after an hour or so of the deafening noise of Disney cruise ships, the chaos of crowds of people and the row-after-row of T-shirt shops, you will most probably be longing to get back to the peace and serenity of the ashram!
Final Reflections
It is said that a person travels the world over in search of what they need and returns home to find it. The experience of being in an ashram gives you the time, the space and the tools to remind yourself of what truly matters, to reflect on who you really are and to realize that you have the immeasurable power to become who you really want to be. It inspires you to let go of limiting habits and be open to this new inner adventure. And above all, it bequeaths gifts of personal development and spiritual growth to take home with you and live a fuller, happier and more abundant life.
This ashram not only offers the resources for authentic yogic practice and spiritual growth, but also happens to be on the warm tropical shores of the Caribbean…
See you there!
All photographs © Andrea Bobby.